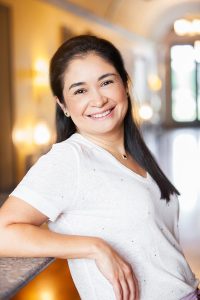 Cristina Sosa Anderson, DDS
Born and raised in Brownsville, Texas, Dr. Cristina Anderson has been practicing general dentistry for over 20 years. She received her Bachelor's degree from the University of Texas in Brownsville with a major in Biology in 1995, before earning her Doctor of Dental Surgery degree at the University of Texas Health Science Center in San Antonio in 1999. She actively participates in her community, having served on the board of the Children's Museum, as a Girl Scout troop leader, and as a member of the Brownsville Junior Service League. Dr. Anderson takes pride in her dental practice where she emphasizes providing excellent care to families while building long-term relationships with patients.
Dr. Anderson believes it is important to be confident in your smile! For this reason, she offers traditional orthodontics, clear aligner orthodontics, in-office bleaching, cosmetic bonding and implant restorations. With over 600 hours of continuing education in the last 3 years, Dr. Anderson's continuous growth in services is reflected through the satisfaction of her patients. She is persistently learning and is currently working on adding the following services to her practice: bone grafting, same day crowns, same day occlusal guards, and snoring devices with the latest in digital workflow dentistry.
Dr. Anderson is a proud member of the following associations:
Dr. Anderson has been happily married to her husband for almost 25 years and has a teenage daughter in high school. In her spare time, she enjoys traveling, reading, and exercising.